Weavers Way is a very scenic footpath which passes through Aldborough, Thurgarton and several adjacent villages on its 61 mile route from Cromer Pier to Yarmouth Pier.
Use is made of public footpaths, disused railway line and some minor roads as it meanders around the county (this is not the quickest route between two points!). Along the way historic railway infrastructure such as station buildings, bridges and crossing cottages are widely observed. It passes a number of fine flint churches, several large country houses, and a large number of wind-pumps as you witness the various different elements of the Norfolk countryside.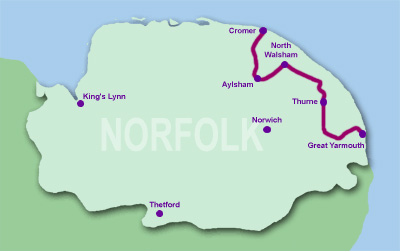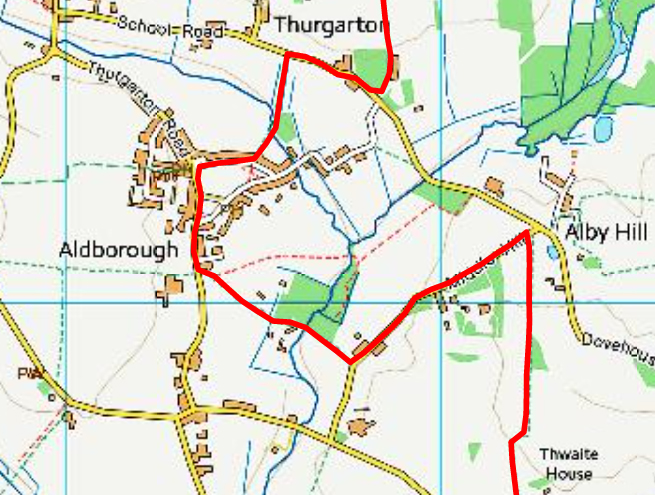 Along its route, as well as passing many areas of wildlife interest, the Weavers' Way takes in several market towns and country house estates and passes numerous medieval flint churches and tower wind pumps that are characteristic of this part of the county.
Named after the once important weaving industry, which flourished in the late Middle Ages around North Walsham, Weavers Way offers a rich contrast of scenery, from the woodlands and mixed farmland of north Norfolk to the grazing marshes and tidal mud flats beside the rivers Thurne, Bure and Yare.
Weavers Way can be subdivided into between 2 and 7 separate sections to be tackled on different days. It is mostly flat, with a wide variety of terrain - open country and crop fields, woodland, dismantled railway, marsh, road (roads tend to be lanes). Quite a varied but gentle experience.
Although if you thought of Norfolk as totally flat a couple of the parts of this walk will convince you otherwise.